Responsive Web Design
Be Mobile Friendly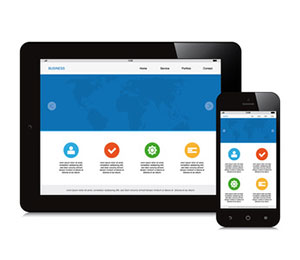 Responsive Web Design is all about putting the user first and making your website display beautifully on their device, whatever size it is. We can code your website with this in mind so whether your potential customer is viewing your website on a small mobile screen, a medium sized tablet screen or a full size TV they can see your products and services clearly.
In addition to working on all devices, responsive websites offer quick loading times as they are optimised for people with slower internet speeds. There is also no need for a separate mobile website as a responsive one can handle everything. Your website can do all the heavy lifting so your visitors have a seamless experience and can browse through your site whether on the go or at home.
Web Design for the future
A website with responsive design is future-proof and can handle any new technology or screen size that may come out so you don't have to worry about whether or not your website will work on the latest gadget. Whether your visitor is using a PC, Mac, tablet, smartphone or even TV your website will be able to cope and display all the relevant information effortlessly. At Gillistics we are determined to produce top quality responsive websites at affordable prices.
Try it yourself!
If you are reading this on a larger screen, try re-sizing your browser window to make it smaller and see how the website intelligently shrinks and changes to accommodate.

Bespoke Web Design
We listen to your business needs and create a totally unique website just for you.

Responsive Design
Our websites display beautifully on all devices and screen sizes.

Search Engine Optimisation
Using our SEO expertise we can get you noticed in the search engines and drive traffic to your website.

Support and Maintenance
Gillistics offer comprehensive Support and Maintenance so updating your website is easy.